Curling Hair Has Never Been Easier!
With the touch of a button, it's easier and quicker to curl your hair compared to using traditional wands and irons.
Our spin curler is sourced from some of the most effective heat conducting materials found on earth; volcanic lava combined with the power of the ceramic, creates bouncy, sleek results without the damaging effects of high-heat styling.
The World's Most Impressive Hair Curling Device Is Here!
Thousands of women worldwide are loving the Professional Spin & Curl.
The unique design features our Rotating Ceramic Curler, our Patented Curl Chamber, 2 Way Directional Buttons and Temperature Control Display which gives you the long lasting, bouncy curls you want in just a few minutes. 
It also beeps when the curl is ready so there's no risk of burning your hair and it doesn't pull either. 
Maximum Curls With Minimum Effort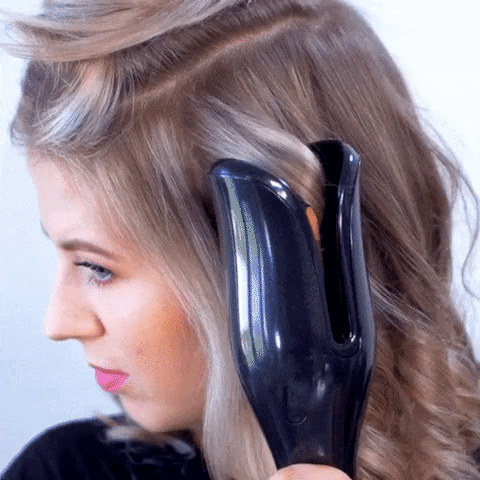 F

ast & Easy

Speed up your hair routine with our spin curler. It takes just 7 minutes to curl all your hair so there's no need to spend hours in the morning getting ready. Create flawless curls at the push of a button!
C

reates Perfect Styles Every Time
The spin curler gives volume to your hair and creates bouncy curls that hold/don't fall out. Guarantees a perfect hair style every time!
B

e Professional Yourself

You don't need to know how to curl hair, just put your hair strands in and let the curler work its magic. It takes just seconds to curl and there's no need to worry about your hair getting stuck or tangled.
This means you get Professional Results without the Professional price tag.
Why 
Professional Spin
 & 
Curl?
N

atural Flowing Open Design
Hair is drawn into the curl chamber where it is heated and timed to create perfect curls and waves every time! The innovative design prevents tangles and burning so you can curl your hair without any worries. If you feed in too much hair, the iron automatically shuts off, so tangling is impossible!
T

emperature and Time Settings
Temperature can be set from LOW, MEDIUM, or HIGH (80-210 °C), with timer settings available from 15s, 17s, or 19s.
According to your hair type, choose different temperatures and timings to achieve the effect you want (flexible waves, soft loops or more defined loop effects).
Y

ou Will Not Burn Yourself
The natural flowing open design is covered by a sturdy shell that barely feels warm against your skin, which prevents tangles and burning. It's basically impossible for you to burn yourself.
Y

our Arm Will Not Get Tired
Using traditional wands and irons, You can't even blow-dry your hair without your arms getting exhausted, but with the Professional Spin & Curl, using clever curl boost technology, you'll curl your hair in seconds without getting tired.
2

Curve Directions and LCD Display

The Curl direction can be controlled with the left and right push buttons. Specially designed with an LCD screen and a buzzer indicator to inform you when you should loosen the curler.
How To Get a Professional Curler Hair, By Yourself?
1. Choose your desired temperature and curling time as a guide (15S/17S/19S).
2. Hold the Professional Spin & Curl vertically with the digital control side facing the head.
3. Take a 3/4" to 1" section of hair and insert into the opening of the curl chamber (the "notch" at the top of the barrel) in a 90° angle. If larger sections are used, hair may be tangled.
4. Press and continuously hold the arrow button in the desired direction to curl the hair. The hair strand will be automatically curled into the chamber and the rotating will stop.
5. You will hear 4 beeps once the curl is set. Remove the tool gently from the hair.
6. Continue around your head in 3/4" to 1" sections. If so desired, change the direction of the curl when moving to the other side of your face.
7. Finish with hairspray to set your curls.
Curling Tips
— Use a smaller section of hair for defined curls.

— Use a larger section of hair for less defined curls and bigger waves.

— Can be used on damp or dry hair but for getting more bouncy curls we recommend using with dry hair!

— If you want beach waves, brush your curls out gently with a hairbrush.
Happiness Guaranteed
Our #1 priority here at Beauty By Bellen is your happiness. Which means we stand by our product 100%, no matter what, no questions asked, no holds barred, no ifs, no ands, no buts. If you have a problem, we will solve it. Refund it. Send you new one. Whatever it takes. Just reach out to our Customer Support Team. We're here for you. Happiness. Guaranteed.